Volunteer Spotlight – Ruby Panter, Esq.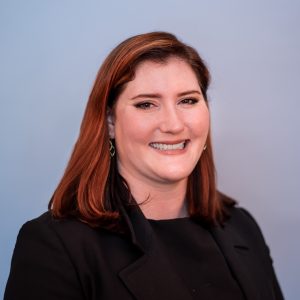 Ruby Panter, Esq.
New Beginnings Family Law, P.C. 
How long have you volunteered?
I have been volunteering with MCVLP for a little over four years, shortly after beginning my work at New Beginnings Family Law, P.C.
Why do you volunteer?
Volunteering with the MCVLP, particularly in the area of family law, is a rewarding way to give back to our community that supports all family law attorneys. So often, financial difficulties prevent people from getting the help that they need in their family law matter and volunteering is such a great way to meet and assist people in need. I want to help people make positive changes in their lives.
What is your most memorable volunteer experience?
Easily my most memorable volunteer experience is participating in the MCVLP Family Law Clinic, which allows me to help many people experiencing family law issues, whether it is just an opportunity to answer their questions, help them plan for their future, or provide a path to resolving a family law action.
What advice can you give other attorneys who are thinking about volunteering with the MCVLP?
Do it! MCVLP makes the entire volunteer experience as easily accessible and seamless as possible from start to finish – I have never experienced a more thorough program that cares about the individuals who come in and matching those individuals with attorneys who can best assist them.