MCVLP Hosts Virtual CLE event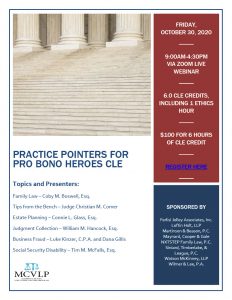 The MCVLP hosted "Practice Pointers for Pro Bono Heroes" on October 30, 2020 via Zoom webinar to great success! This CLE event boasted 6 hours of CLE credit and gave all attendees the opportunity to learn from experts in their subject matters. Special thanks to all of our presenters who gave of their time and talents to educate all of us. We learned so much from all of you! An extra special thank you to Martinson & Beason, P.C. which allowed us to use its conference room and technology, along with Morris Lilienthal, who was our MC extraordinaire! We could not have done it without everyone's involvement and support.
Presenters:
Coby M. Boswell, NXTSTEP Family Law
Judge Christian M. Comer, Circuit Judge, 23rd Judicial Circuit
Connie L. Glass, The Elder Law Firm of Connie Glass, P.C.
Dana Gillis, Lead Fearlessly
William M. Hancock, Wolfe, Jones, Wolfe, Hancock, Daniel, & South, L.L.C.
Luke Kinzer, Anglin, Reichmann, Armstrong, P.C.
Tim M. McFalls, Hodges Trial Lawyers, P.C.