Volunteer Spotlight – Zach Guyse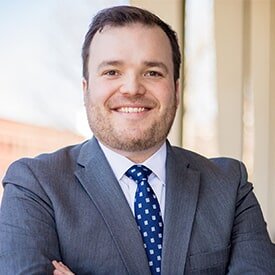 Zach Guyse, Esq.
Wolfe, Jones, Wolfe, Hancock. Daniel, & South LLC
How long have you volunteered?
I have been taking MCVLP cases for a little over two years.
Why do you volunteer?
Proverbs 3:27 says "Do not withhold good from those to whom it is due, when it is in your power to do it." Whether or not someone can afford an attorney has no bearing on the merits of their case. If I can make sure that a person receives the justice or good that they deserve, then it is work worth doing.
What is your most memorable volunteer experience? 
For one of my first MCVLP clients, Judge Ruth Ann Hall granted summary judgment in my client's favor. I distinctly remember Judge Hall remarking at the hearing, "In all my years practicing law, I can honestly say I've never had this issue come up before." That was unsurprising to me since the most recent case I could find on-point was from the 1940's. After the case was over, my client was happy and I learned about a unique area of the law that I would not have been exposed to otherwise. While I had to devote a significant amount of work and time to the case, it opened my eyes to other opportunities with the MCVLP that do not require as much time commitment, but are just as important to the people involved.
What advice can you give other attorneys who are thinking about volunteering with the MCVLP?
The MCVLP staff make it easy for you to volunteer either outside or inside your comfort zone or practice area. If you are nervous about taking on your first solo client, then volunteer at one of the many clinics the MCVLP offers, such as Wills for Heroes. Even if you have never drafted a will before, the MCVLP staff and the other attorney volunteers make it a rewarding learning experience.