Volunteer Spotlight – Matt Hancock, Esq.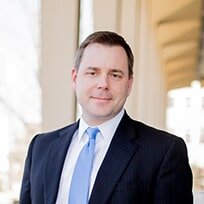 William M. (Matt) Hancock, Esq.
Wolfe, Jones, Wolfe, Hancock, Daniel, & South. LLC
How long have you volunteered?
 I have been in practice at Wolfe, Jones since 2002.  I started doing volunteer work with MCVLP not long after coming to work at the firm.
Why do you volunteer?
Growing up in Decatur, I was taught to respect the dignity of hard work.  Our community includes so many people who are industrious, but who might not have access to professional resources.  There are hard-working people in our area who could really use the assistance of a lawyer, but who don't have an attorney in their family or in their circle of friends.  Volunteering allows me a chance to provide service for someone for no other reason than that they deserve it.  What lawyer doesn't enjoy standing up for someone who is unable to stand up for themselves?
I once read that the University of Alabama School of Law's tuition rate was much lower than what the quality of the education would otherwise dictate.  The analysis determined it was as if the people of Alabama gave every law student a partial scholarship.  I always thought that was a rational basis on which to conclude each of us owes a little something to the non-lawyers in our state.
What is your most memorable volunteer experience?
 I have volunteered at one day clinics, taken on volunteer files that were resolved within a few days and have files that have been ongoing for much, much longer.  Among the memorable volunteer experiences I have had, the ones that stick out are the thank you notes.  I have received a number of thank you letters and emails from clients over the years.  I save them all.  The most memorable have to be the letters or appreciative emails that have come in from MCVLP clients.  Even small things can be very meaningful to people who don't otherwise have access to thoughtful legal advice.  I was recently able to assist a MCVLP client who had been struggling with an issue for more than ten years.  After a title search and a telephone call we were able to quickly resolve her issue and set her mind at ease.  That client's tearful appreciation has been the highlight of 2021 for me.
What advice can you give other attorneys who are thinking about volunteering with the MCVLP?
The hardest part about volunteering is forcing a break from the day-to-day requirements of a law office.  If you treat MCVLP participation like you treat CLE compliance you can schedule time away from regular practice and complete what needs to be accomplished.  Volunteering with MCVLP makes sense from an efficiency standpoint as well.  The MCVLP staff does a great job of organizing the files and providing all the required information in a user-friendly format.  If you have any inclination to serve people who could use the help, MCVLP makes the process as easy as possible.