Volunteer Spotlight — The Honorable Jimmy Sandlin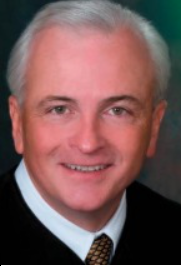 How long have you volunteered with MCVLP?
When I began my law practice 32 years ago, one of the first appointments I made was with a respected member of the local bar. I ask him for advice on establishing my practice. I expected him to tell me the best way to be successful. I didn't expect his response. He told me that I should always remember that I am a member of an honorable profession, and that the goal of our profession was to assist people with their legal issues. He said that if I would remember that goal, I would always be successful. He went on to say that he had a policy for himself wherein he would set aside 10% of his time for pro bono services. This time would be his "tithe" to the community. I adopted that philosophy and have tried to follow it since that date.
Why do you volunteer?
I strongly believe that it is a privilege to be a member of the legal profession, and with every privilege comes responsibility. While I was serving as Circuit Judge, I saw the large number of litigants who were trying to access or navigate through the court system without the assistance of legal counsel. Many of these litigants had extremely important legal issues which needed to be addressed. I was frustrated that, as a Judge, I could not assist them as much as I wanted to. I feel that it is my responsibility as a member of the bar to spend a portion of my time providing services to people who otherwise could not afford to retain me. I also enjoy the personal satisfaction of helping someone in need. I don't have many other talents which could be used to assist the poor, and I don't have a large amount of disposable income to give to the poor, but I have my expertise as an attorney, and I enjoy the blessing of using that expertise to help someone in need.
What is your most memorable volunteering experience?
My most memorable volunteering experience is without a doubt, Ms. Dorothy. Ms. Dorothy was a beautiful person on the inside, but not much to look at on the outside. She lived "way back in the woods" in an abandoned bus which had been converted into a home. She shared the home with her chickens, dogs, cats and even a few raccoons. She bathed in the "crick" and ate off the land. Her most notable physical attribute was her beard. Yes, I said beard! Ms. Dorothy had purchased a homeowner's insurance policy to cover her residence. Don't ask me how she got that policy issued, but it was in effect on the day her home burned to the ground. Ms. Dorothy said the dog started the fire when he was chasing a chicken in the kitchen and knocked a pan of frying bacon off the stove. Dorothy lost everything she owned in the fire. Her insurance company denied the claim stating that the origin of the fire was suspicious and the bus did not qualify as a residence. After much negotiations and threats of legal action, I was able to convince the insurance company to pay the claim. Dorothy was so happy she cried. She even brought me a coffee mug which said, "world's greatest lawyer." But the best reward was the big, wet kiss she placed on my cheek! My staff never let me forget about that kiss!
What advice can you give attorneys thinking about volunteering with the MCVLP?
Do it! You will not regret it! Just like that wise old attorney told me 32 years ago. Give 10% of your time as your tithe to the community. This is a guaranteed path to success.