Volunteer Spotlight – Doug Martinson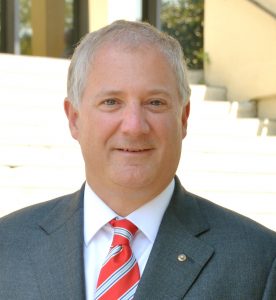 How long have you volunteered? 
Volunteering has always been a passion of mine and something I've tried to ingrain in the DNA of our firm. I have volunteered with the Madison County Volunteer Lawyers Program since 2010, when it was reorganized.  I have volunteered in the community since I was in high school and currently serve on the Board of Directors for the Huntsville Madison County Public Library, Cap and Gown Project, and the Tennessee Riverkeeper. I'm also very involved with the Huntsville Rotary Club, and have previously served as President. As a product of Huntsville City Schools, and with sons who attended Huntsville City Schools, I'm also interested and invested in public education. This led me to run and serve on the Huntsville School Board.
Why do you volunteer? 
As a Huntsville native, I enjoy sharing all that our community has to offer as we continue to grow. I've always considered our city to be a special one that cares about all its people. Huntsville is such a great place and people have always helped me out and I want to give back to help in the education and legal profession.  I do find that when you help people you get a lot in return.
What is your most memorable volunteer experience?
Working with the Rotary STRIVE Program at Lee and Butler High Schools.  STRIVE is a scholarship and mentoring program for the lower third of the upperlclassmen at these schools. To have high school students tell you that they wouldn't have graduated if it wasn't for STRIVE is very rewarding.  As for volunteering my time for legal services with the MCVLP, assisting families through adult guardianship and conservatorship proceedings is particularly rewarding. This allows family members to provide senior citizens suffering from cognitive decline the care they need. I also enjoy helping families with special needs family members preserve assets and obtain independence for the special needs person.
What advice can you give other attorneys who are thinking about volunteering with the MCVLP? 
I would advise attorneys to take MCVLP cases to give back to the community because you can make a major difference and impact on people's lives.  The cases are important to the MCVLP clients and they are appreciative of your assistance.