Volunteer Spotlight – David W. Holt, Esq.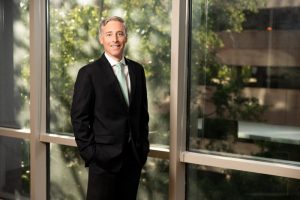 David W. Holt, Esq.
Loftin Holt, LLP
What a year for a Presidency! When David Holt stepped into the MCVLP Board Presidency in January 2020, like most of us, he had no idea of the tumultuous year 2020 would be.
David's steadfast calm and thoughtful manner helped guide the MCVLP during an unprecedented year. David is a true leader and this was certainly demonstrated as we learned to navigate uncharted waters this past year.
Under his leadership, the MCVLP learned to be more flexible and pivot in our approach to both serving clients, in addition to our volunteers. We instituted the ability for volunteers to appear virtually at our clinics, giving volunteers who were unable to appear in person for meetings, the opportunity to engage with and serve clients in a virtual platform. The MCVLP additionally hosted an inaugural virtual CLE event, providing our volunteers the ability to earn CLE credits and learn from experts in our own community, at a low cost and from the comfort of their own offices or homes. We look forward to continuing the CLE event for years to come. We additionally engaged firms to create custom "Counsel and Advice" Clinics, whereby firm members provided services to clients either virtually or via telephone, allowing clients to receive services without having to meet in person or leave their homes. Our Board meetings even moved to a hybrid model, allowing Board members to attend meetings virtually or in person with safety precautions in place.
This year, the MCVLP also initiated a new Clinic model and partnership with the Downtown Rescue Mission, giving volunteers more opportunities to be engaged and serve clients seeking access to justice. Throughout this past year, our intake lines have remained open, when many others were forced to close, and we have continued our outreach and service to our Madison County clients.
We are grateful for David's dedication to the MCVLP and for his willingness to serve as needed. His dedication has helped increase the quality of services to the indigent in Madison County and continue to impact the lives of many of our citizens who otherwise would not have access to justice.  We are honored to spotlight David Holt, and thank him for his service to the MCVLP!