Volunteer Spotlight – Amanda Warriner, Esq.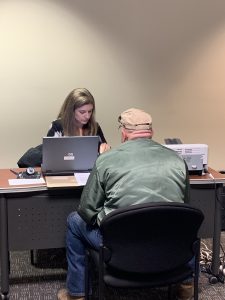 Amanda Warriner, Esq.
Listerhill Credit Union
How long have you volunteered?   I moved to Huntsville at the end of 2018 and started volunteering as soon as I got settled. All I had to do was reach out to Anne and she made the onboarding process very easy!
Why do you volunteer?    The best thing about being a lawyer is our ability to seek justice, even though the pursuit of justice may not always feel like the focus of our everyday legal work. Volunteering allows me the opportunity to seek justice in some small way, and provide easy access to legal assistance for those who need it most. (I also get to show people that lawyers are not as scary as we seem on tv!)
What is your most memorable volunteer experience?   My favorite volunteer day is Wills for Heroes. Drafting a will for a client gives you an opportunity to really discuss your client's life with them, and it is truly a blessing to sit and talk with so many of our county's superstars. The Heroes are so incredibly grateful and yet the task is so easy! If your schedule allows you to volunteer for a Wills for Heroes clinic, I highly recommend it.
What advice can you give other attorneys who are thinking about volunteering with the MCVLP?   The best advice I can give other attorneys is to just give volunteering a try! I know a lot of attorneys are worried they may not have all the right answers, but working with MCVLP is always a group effort. I would also share a secret that a lot of the questions asked by clients are not necessarily legal in nature -- some people need assistance that you can quickly find through online research, and others just need someone to listen. The talents and skills you have developed can help others, so don't be afraid!